"I have been a real estate investor for more than 10 years. It's not a job, it's a passion and a privilege."
- RE/MAX Northland Broker/Owner, Jared Lundgren
Here at RE/MAX Northland we work as a TEAM. We love to help make real estate dreams come true. We know life gets busy so let us do the work for you. When you're looking for a partner to help you negotiate the complexities of buying or selling a home, you can trust we'll work together to ensure the best service possible - from search, all the way through the closing transition. Check out current homes listed FOR SALE by RE/MAX Northland or view homes we've recently SOLD!
What makes RE/MAX Northland different than all the rest?
OUR SALES: we are #1 with over 12 million in sales within the Aitkin Lakes Area (17 million overall) in 2018!
OUR RATES: we offer commission rates as low as 5.0%!
OUR LISTINGS: we provide professional photos, drone videography & virtual tours for 95% of our listings!
OUR ANALYSIS: we provide a comparative market analysis to ensure top dollar for your property!
OUR WARRANTY: we offer FREE home warranty coverage for as long as your home is listed with us!
PLUS...
1. RE/MAX Reputation - We are proud to be a part of the RE/MAX corporate team. According to the 2017 REAL Trends 500 survey, RE/MAX is the #1 name in real estate. Survey showed that RE/MAX associates outsold competing agents with a ratio of more than two to one!
2. Local Advantage - Our Aitkin team has years of experience living & serving in the local lake communities. We have the connections necessary to market and sell your home, sometimes before it even hits the market. We have thousands of contacts that we have worked with over the years. We will work together to inform the community by way of email, Facebook and other social media networks in order to drive excitement and interest!
3. Internet Advertising & Social Media Campaigns - We definitely take advantage of a broad spectrum of technologies & tools to enhance the sale of your home - from start to close. In today's world, most home buyers start their search on the internet - top placement on search engines is essential! With RE/MAX Northland, have excellent placement on MLS, Zillow, Trulia, Realtor.com, Google, Bing and other websites to maximize your exposure and increase the number of potential buyers who view information about your home. It's important to "work the network." Here are only a few examples: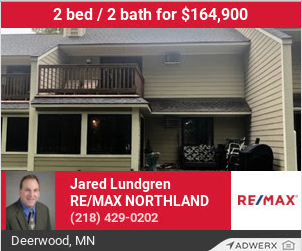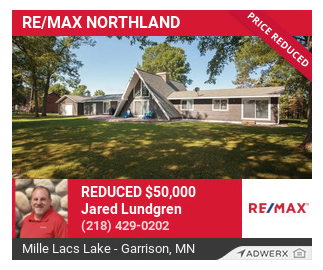 4. Weekly Reporting
5. Negotiating Deals with a Personal Touch - Of course, technology alone won't sell your home. Our team is lead by Broker/owner Jared Lundgren who has over 30 years of successful business & negotiating experience. Every little detail will be handled with care and constant communication.
See RE/MAX Northland properties listed FOR SALE
We appreciate the opportunity to earn your business and look forward to serving you!
Testimonials
" Mary and I just want to thank you again for all of the help finding the right cabin. I know we were very picky trying to find the right one. Your knowledge of the area really helped us lock in about 3-4 lakes. Also, thanks for the gift of knifes, we plan on leaving them at the cabin and will think of you each time we use them. Like Mary said we would like to take you and your wife out next spring. Have a safe and Happy Thanksgiving. Thanks again! "
- Paul & Mary - Client 2017
" As personal representative of my late mother's estate, I had to sell 3 large parcels of vacant land (including lake shore property) in Aitkin County MN. The transactions also involved a 'lot line adjustment' with the county planning and zoning office. Because I live in Illinois, we had to work together remotely for the entire process. Jared and his team (especially Rhonda) were exceptional in knowing and working with the county officials. They were also great in coordination with the surveyors. They know the market well, and after providing a market analysis, we selected a price point that generated significant interest in the first week on the market, attracting multiple offers which allowed us to negotiate a very competitive deal for the estate. I would recommend Jared and his team to anyone who is interested in buying or selling property in the greater Aitkin area. "
- 2018 Grant S Benjamin
" Jared Lundgren is an excellent broker and representative. Jared was a transparent and effective communicator though the process of purchasing our property. He was very prompt in returning correspondence. We were initially worried about having the listing agent as our representative but Jared's honesty and straightforward communication style made dual representation a non-issue. Jared helped us to navigate everything from county assessments to surveying issues to closing with ease. We truly appreciate all the time and effort Jared and his team devoted to ensuring our needs were met and we highly recommend Re/Max Northland. Thanks again for everything! "
- 2018 Scott & Amy Kirkhoff
" Jared assisted in the sale and the purchase of our homes. He did an excellent job and refused to give up when parts of the deal became challenging. We will be using him again and highly recommend Jared to anyone looking to buy or sell property! "
- garrettlee724 - Client 2016
" We couldn't be more pleased with the overall customer service that Jared and his entire team provided from the time they listed our home, until it was sold. They were always accommodating, extremely friendly, very proactive with our listing, and were always available to offer support and wisdom. We felt that their service was second to none, while at the same time my wife and I appreciated their honesty. While trying to sell a house can be a daunting task, Jared, Rhonda and the entire REMAX Northland team exceeded our expectations on every front. Not to mention, that they also sold my mother's house and she closed within 3 days of us closing on our home. Again, whether your buying or selling your home, I couldn't more highly recommend this company or team of dedicated agents, who ultimately became friends. "
- Jason
" Kim was an absolute pleasure to work with! She was very responsive and went the extra mile to ensure I would get the property I wanted at the right price point. I would work with her again in the future! "
- Jenn Choi - 2019
" The REMAX Northland team is the best!!! During our recent lake home purchase this experienced team helped guide us through every move, not an easy feat when you live 5 hours away!! They are the go to place for your real estate needs in Minnesota! Very professional with personalized service, you can count on Jared and his team to assist you from the beginning to the end of your real estate journey. Rhonda is a totally awesome office manager, readily responding to any of your needs! If you have any real estate needs and you want the #1 team on your side, contact Jared or anyone on his team!! "
- Scotty and Leann 2020
" We are very satisfied with the timely fashion in which Kim helped us to sell our home. Kim is a great listener who is concerned about all of our needs, wants, and desires. She worked hard to be personal with us in a professional manner. She helped us to understand and navigate throughout the entire process. She was attentive and quick to respond to our questions searching for the best answers. She also knows how to handle multiple offers to get you the best deal. We highly recommend her services! "
- Thorsoncrew - 2019
" Kim was very helpful in every aspect of helping us sell our lake place. She is very friendly and was willing to listen to our ideas. Kim would always be on time when showing us properties. I would recommend her to any future clients. "
- 2019 brianfwf
" Kim was very helpful in every aspect of helping us sell our lake place. She is very friendly and was willing to listen to our ideas. Kim would always be on time when showing us properties. I would recommend her to any future clients. "
- Brian - 2019
" I can highly recommend Jared for a realtor without any hesitation. He was very patient with us and gave us some great advice which was in our best interest, but maybe not his. He was available in the evenings and was always cheerful and willing to help us. I feel fortunate that we worked with him. We did not buy a Lake home, but if we had and I would still have given him a five star review. "
- drpaul4 - Client 2016
" We have been searching for a lake home for 2 years. It was not until I hooked up with this company that I found our dream lake property. Jared knew what we wanted after we spoke. It was the second house we looked at with him and we were sold. With him and his outstanding office manger Rhonda you cannot go wrong using this company. "
- Ronnie Law - 2019
" Working with Kim Baker went smooth and she was very understanding with details. Communication was very good and she kept in contact throughout our time with her. I would recommend Kim Baker with helping buying a new home anytime. "
- 2018 sharon reich2
" Excellent open communication, did not feel pressured during sale of our property due to "lender" issues that delayed closing, Kim is calm, professional and consistent to get the deal done ASAP!! "
- 2019 MMDick
" Jared did an awesome job negotiating a lake home for us. As with most residential purchases, there are often a few glitches, but Jared helped us to navigate them and was excellent in his realtor skills. We would highly recommend him to anyone looking for a special home! "
- 2018 katekoester
Previous
Next